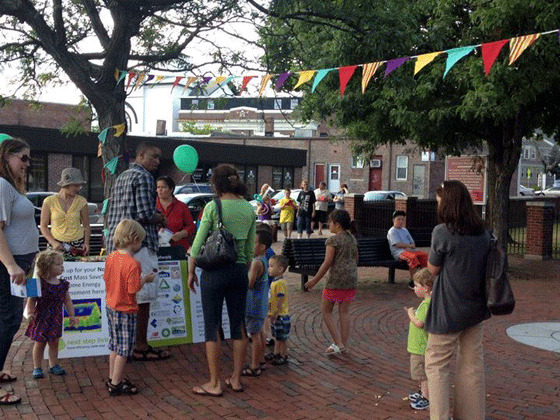 We were thrilled with the turn-out for this season's opening day in June, and we look forward to seeing everyone out and enjoying Circle the Square on Thursday, July 18 from 3-7 PM when our theme will be "Stars and Stripes". As always, we'll have a variety of free music, performances, art, and activities for all ages throughout Medford Square, as well as activities and discounts at many area businesses. Come join in the fun and see everything Medford Square has to offer!
Enjoy musical performances from Rhett Price & Josh Knowles, Hayride, the Occasional Brass Quintet, Larry Terry, and Peter Malagodi, as well as music from Muse Stew and Don Hammontree at the Medford Farmers Market. We'll have country line dancing with Julie Kaufmann, and hoop dancing with Boston Hoop Troop. Author and investigative reporter Hank Phillippi Ryan will be at Bestsellers Café, signing copies of her book "The Other Woman", and join historian and re-enactor Ryan Hayward for his tour of the Salem Street Burying Ground, "A Minuteman Relives Days of Glory and Struggle". There will also be a sidewalk sale with participating businesses along High Street, a beach give-away from Members Plus Credit Union, and learn about green-living from Solarize Medford and Next Step Living.
For the kids, bring your well-loved teddy bear or other stuffed friend for some TLC at the Teddy Bear Clinic provided by Pediatric Associates of Medford. There will also be face painting, children's activities with the Medford Family Network and the Mystic River Water Association, and a scholastic book fair at Play Academy.
Tap into your artistic side by participating in our Something City recycled art project with Miranda Aisling along Riverside Avenue, head to the Mystic Art Gallery for Painting for Kids with Ben Warren, and try your hand at origami with Artwork In2Shades. We'll also have local artists and artisans displaying and selling their work, including beaded jewelry by Jeanette Dion and Esmeralda Lambert, photography by Rich Jarvis, and goats milk soap by Andrea Corkum. At the Medford Historical Society, view artifacts from the battlefields of the Civil War and make an origami crane to participate in the 1,000 Crane Project for the Children's Peace Monument in Hiroshima, Japan sponsored by the Medford Public Library, Medford Family Network and the Rotary Club of Medford.
Get physical with football and cheer demos from Medford Pop Warner, martial arts demos from Oom Yung Doe and Xtreme Ninja, and Bike Fest at the Medford Farmers Market.
At Shipyard Way, there will be pizza and music, as well as a Beer Garden with beer and appetizers on the patio by the footbridge, all provided by Salvatore's Restaurant. Sample Mystic Coffee Roaster's new smoothie flavors while enjoying the music of Auddity. Enjoy VESTA Mobile Wood-Fired Pizza and middle-eastern specialties from Chubby Chickpea at Hyatt Place, Lobster Fest and buck-a-shuck oysters at Carroll's, and summer tastings at Grapevine Travelers.
Participate in our Where's Waldo in the Square? Scavenger Hunt – find the cut-outs of Waldo hidden in businesses around the Square and collect stickers at those businesses to complete your game card and be eligible to win great prizes, including Where's Waldo? books and a gift certificate to Bestsellers Café.
Schedules, maps and scavenger hunt game cards will be available at the Circle the Square Welcome Table at the corner of Riverside Avenue and River Street. Visit our web site www.circlethesquare.org for more information about our schedule of events, or visit us on Facebook or Twitter. Public transportation, walking, and biking to the square are encouraged. Parking can be found in the commuter lot by Springstep, behind City Hall, along Clippership Drive and the adjacent parking lot, and the lot off of Governor's Avenue.
Circle the Square is supported in part by the Medford Arts Council, a local agency supported by the Massachusetts Cultural Council, the Tufts Neighborhood Service Fund, Medford Health Matters and Mt. Auburn Hospital, as well as the sponsorship of RE/MAX Andrew Realty and Carroll's Restaurant.